June 03, 2021 - by Huber Engineered Woods
Send this article to a friend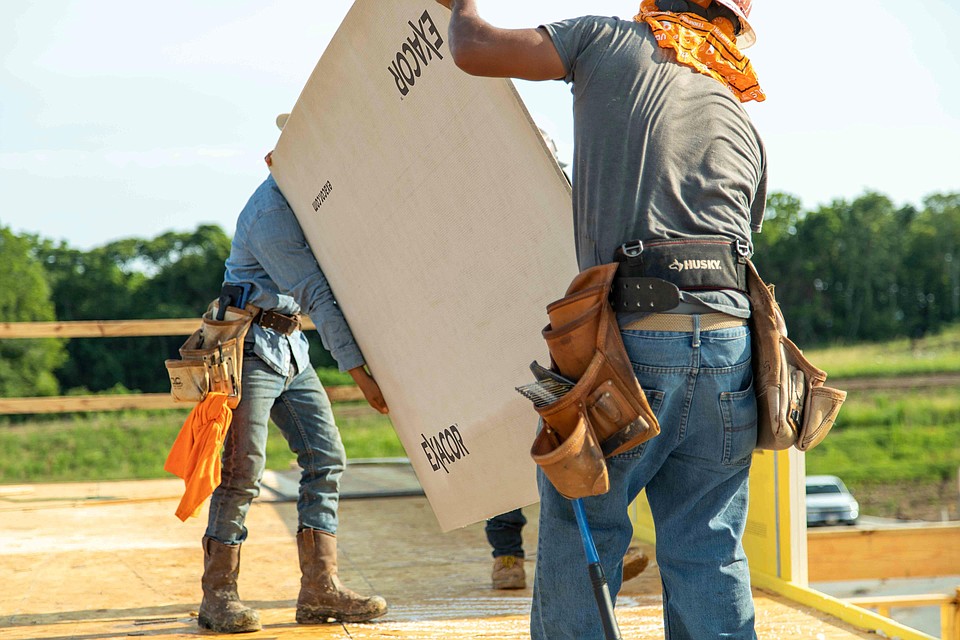 Skeptics abound in the builder space. And for good reason -- missteps are costly and a reputation risk. Tried-and-true solutions persist, while trends come and go. So when real innovation arrives, the story often sounds too good to be true. That's what TDK Construction's reaction was at first. But the Murfreesboro, Tennessee development and construction company quickly learned EXACOR™ was a notable exception.
"Our construction supply company sales rep had other contractors in the area say they were skeptical, but as we were laying EXACOR underlayment down, they saw how quick [the process] was. It was faster than laying just traditional subfloor," said Todd Hardy, supervisor for TDK Construction. "Time is money and if we can save time on one job, let alone all our jobs, that really adds up." 
EXACOR v. Gypsum Underlayment

EXACOR's subflooring and underlayment solutions install like wood, reducing the number of trades on site. Unlike gypsum underlayment assemblies that require hiring additional subcontractors and waiting on cure times, existing framing crews can install EXACOR underlayment panels over plywood or OSB subfloors, so construction can continue without delay.
Another benefit? For TDK, eliminating gypsum underlayment meant they didn't have to make any adjustments to door headers on the second or third floors, since there weren't variances in the thickness of EXACOR underlayment. With gypsum underlayment, this precision isn't always guaranteed, causing headaches for crews down the road.
"Our framers could prefab everything, they don't have to worry about the first, second, third floor being different," Hardy said. "With gypsum, there were always unknowns, things you wouldn't discover until you're deep into the construction process."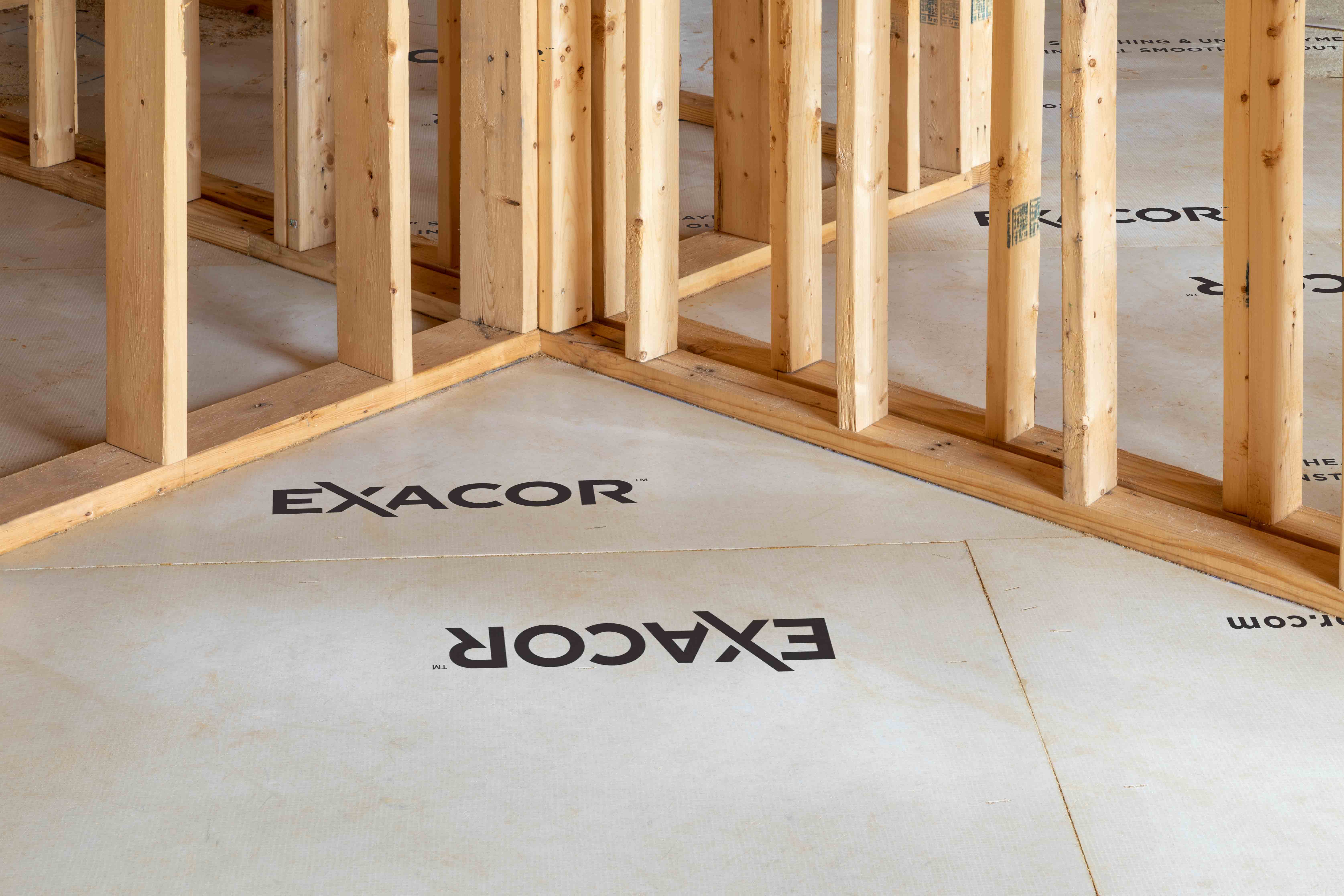 How does EXACOR work?
EXACOR panels are specifically engineered with the structural, acoustical, fire-rated and dimensional stability performance needs of today's jobsite in mind. Made primarily from magnesium oxide (MgO) and added compounds, EXACOR is similar to a cement panel product. When the MgO panels are formed, a controlled chemical reaction takes place that allows the boards to become solid. 
With the strength of MgO and an integrated mesh core, EXACOR panels offer a smooth base for floor coverings. EXACOR panels can be used as both a subfloor underlayment over traditional OSB or plywood (UL 263 L528) and as a structural subfloor (UL263 L601).
How Does EXACOR Perform with Sound and Fire-resistance?

As underlayment, EXACOR MgO panels can help meet acoustic performance requirements while replacing the need for gypsum underlayment. They can also help protect against fire and sound in multifamily structures when used as part of certain tested assemblies.
"With construction projects like ours — a three-story building — you want to make sure you alleviate all the sound from above, and that is always one of the architect's biggest challenges," Hardy said. "With the gypsum underlayment assembly we've used in the past, we had to add a sound mat between the gypsum and the finished flooring. This was eliminated with the EXACOR underlayment assembly."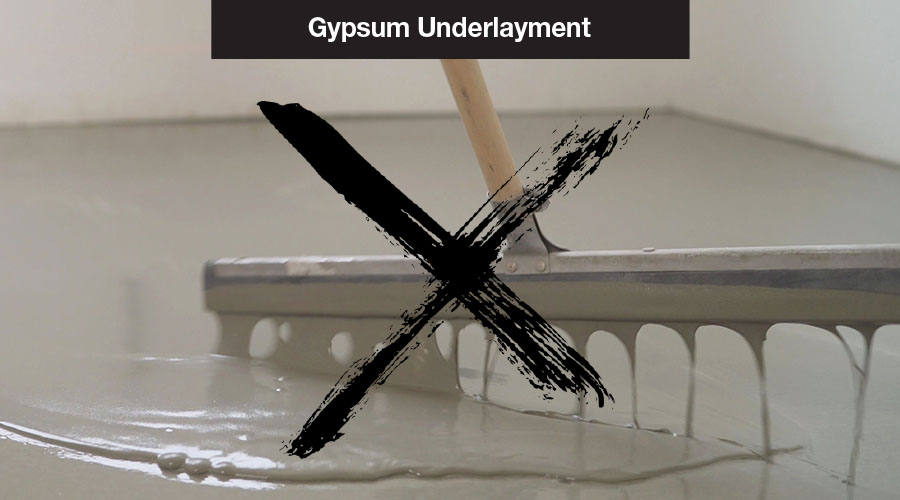 TDK's Final Verdict?

According to Hardy, the EXACOR underlayment installation took less time than installing gypsum underlayment. He estimates that using MgO panels saved the company approximately $30,000 in their budget and knocked almost two months off the construction schedule, allowing potential renters of the luxury apartment complex to start moving in sooner than originally projected.
"We'll use this for everything going forward. At TDK Construction, everything we build, we own. Our owner and developer are all about getting it done, and they were super happy with the results," Hardy said.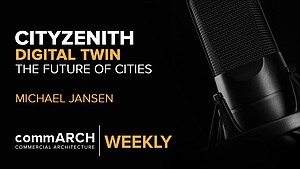 CityZenith's Michael Jansen on Digital Twin & the Future of the Urban Environment | commARCH Weekly 07/2020
In this episode, commARCH has a dialogue with Michael Jansen, Founder and CEO of CityZenith, to discuss the burgeoning landscape ...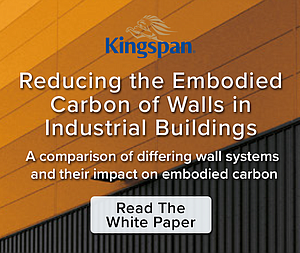 Reducing the Embodied Carbon of Walls in Industrial Buildings
Kingspan partnered with Kieran Timberlake to quantify how Kingspan can reduce embodied carbon in industrial buildings.