Dialogues
NK Architects and Fairleigh Dickinson University Collaborate on Reimagined Animation Lab - Interview Transcript
October 18, 2021 - by commARCH
Send this article to a friend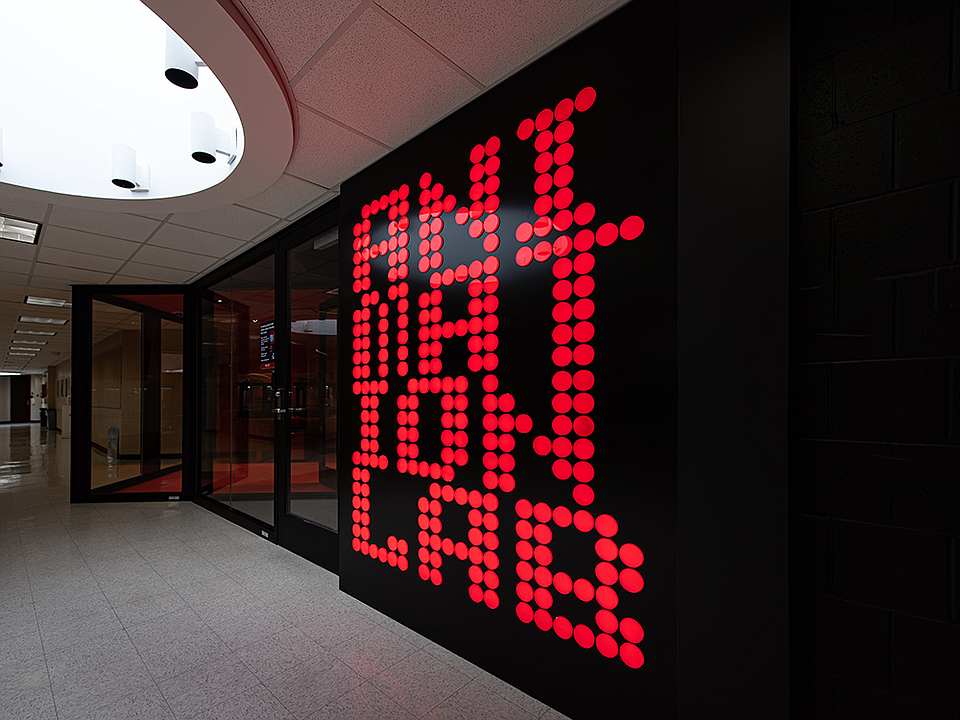 To refresh a 1960s-era building serving as Fairleigh Dickinson University's Animation Lab, campus leaders turned to NK Architects, who envisioned a multi-functional, open space that inspired creativity and fostered collaboration among students. We spoke with Heidi Fichtenbaum of Fairleigh Dickinson University, and Elizabeth Burke of NK Architects to learn more about the project.

For more coverage of the Fairleigh Dickinson University story, browse our September-October 
Digital Issue
,
which contains additional perspectives and images as well as related articles and much more.
Elizabeth Burke is a lead architectural designer at NK Architects. Elizabeth has engaged at all stages of a project, from concept design through construction administration, and has even served as a project manager, which gives her a keen insight into designing for constructability and codes and executing design ideas in the field. She received her Bachelor of Architecture from the New Jersey Institute of Technology and her Associate's in Interior Design from Northampton Community College.

Heidi Fichtenbaum is a registered architect and a LEED accredited professional since 1999. She has led the effort to integrate sustainable design on numerous architectural projects in New Jersey. Currently, Fichtenbaum is the Senior Project Manager at Fairleigh Dickinson University's Metropolitan and Florham campuses guiding all capital projects and developing facility sustainability goals and standards. She was recently appointed the chair of the Facilities' Sustainability Working Group. Her advocacy for sustainable design has impacted building projects, awareness among her colleagues and the public, raising the level of understanding and commitment in the area of ecology and sustainable architecture.
commARCH: So, I love this story because it hits on so many different angles. So if we could spend a moment first with Fairleigh Dickinson - what, as a university, you needed to achieve. Because I'm so intrigued - it's even marketing, it's hitting on all these different areas that the university benefits as a result of architecture.

Heidi Fichtenbaum: Yeah. The building that this particular project is in is I believe it was built in the sixties - Elizabeth, correct me if I'm wrong.

Elizabeth Burke: That's right.

HF: And so it was very traditional in terms of classroom space and performance space. And we felt that one of the things we were hoping was to maybe bring it forward into a more contemporary approach to learning. And to support this particular program that has been extremely successful with sort of a lower level of technology and, you know, teaching space. But they've been extremely successful in placing their students in professional jobs that are just an amazing credit to the professors and the program, that they've been able to find such wonderful positions out in the industry of animation.

So we really wanted the architecture to reflect that. We wanted something that could really jumpstart maybe a series of renovations to the School of the Arts, have that "Wow" factor, something where the architecture reflected the activity and the teaching and the profession itself.

And so we looked to NK Architects to help us with that. Understanding that they have real depth in design of higher education and would do something that could balance both something that was - had that "Wow" factor - with something that was practical, which is just the sweet spot for our university.

CA: So the concept was to take an older building - 1960s building - make it feel contemporary. Let it reflect the curriculum that occurs within that space.

HF: Yeah. Give it sort of this theatrical feel, that's so much part of the School of the Arts. I think that they really hit it out of the park. Everybody who sees the project is really enthusiastic about it. I think the donor was really excited. And the students love it. In fact, I got an email from a student who said, "Wow, these desks, this technology, this is great. Could we have this everywhere in the university, in every classroom?" It would be nice, but probably we can't extend this to every classroom.

CA: Within that concept, was there any measurement that you were going to use, as a result of this investment? We are going to grow this area of the university X amount, were there any kind of, I don't know, measurements, things like that?

HF: I don't know that there are measurements, but I do know the School of the Arts is doing some master planning, and they saw this as a springboard to, you know, hopefully being able to do fundraising to demonstrate what a really great transformation of space, the kind of transparency... So not only within the space, you can see what's happening. That's something that's so different about this space than other traditional classrooms, where walking down a long corridor, there were doors along the corridor, you can't really tell what's going on inside. This becomes so much more engaging.

CA: Yeah. Interesting. So, Elizabeth, the firm has this opportunity. Now, this could have gone in so many different directions. So how did you start crystallizing what this should really be?

EB: FDU had given us kind of a package of things that they were interested in, and maybe they showed us some different student ways to display that they were thinking. And, you know, how you said it, they wanted some transparency. They have a donor and they wanted to do this cool place for the kids to go. You know, I first started coming up with a concept. It was this wireframe idea of what it would feel like if you were in a wireframe, like when you're 3d modeling - or at least how it used to be. And then we took it from there and first started hashing out the programming, seeing what needs they needed.

One example is, they used to do all of their virtual reality-type stuff out in the hallway. He was telling us, they're jumping and they're trying to mimic the characters' positions, so that they can capture that for the motion capture and then put that on the computer. So it was like, "Wow, they needed space for that, can we give that space to them?" Their 3d printing area was kind of shoved in the corner and they really wanted to get a couple more 3d printers. They wanted to display some of the 3d printing that the students were doing for other characters, so they definitely need a space for that. They need a space for heating and cooling of these machines and everything to be well-ventilated because they have all these CPUs in there.

So we took all the information, I sorted it out, looked at what they had given me, like what kind of direction they wanted to go in. And they had mentioned industrial-type feeling. So, we started looking at the site and seeing what we can do. And then, we just started from there and I think I gave them a couple - I probably had four different configurations and we settled on one, right? And then I went from there designing it, and you just look at the budget, make sure everything fits within that budget. And that was how we ended up.

And it's the first thing you see when you walk up the stairs, is the animation lab. So we wanted a presence there and they had such large corridors for - more so than a lot of other education projects I've done - so we thought, let's pull it into there, pull this box out. 
Yeah, it was a lot of fun, it was a great project.

HF: I have to say that the display component of this is just so creative. Because typically what are these long corridors - again, there's like a display case mounted on the wall, which is okay - but the whole room is the display case. That's what's so fun about it, right? The room is the display case because of the transparency.

And although, if you look around, there's some casework and walls are painted and there are things that are fairly straightforward, to tell you the truth. But just a couple of important moves, whether it's the ceiling plane, which really enhanced it, or that sort of box that protrudes into the corridor, and all the glass that allows you to see what's happening inside.

Those are the key design features and moves that have taken it from pedestrian to extraordinary.

CA: I'm just thinking that, for the student - the would-be occupant - walking up to a 1960s building and here they have this disruptor-type mindset, and they're going to be very creative and they're going to do - maybe they're not feeling like they're belonging. And then they come in, and because of the result of this, they know this is their home. This is a place. This is where they're going to fulfill themselves. Is that accurate?

HF: Absolutely. I think we struggled to provide that experience that in an older building. That will help students envision the transformation that will happen to them when they come to our university and are looking ahead to a career in animation. When you walk up to this room, you know it's going to happen.

CA: Because of the setting around it, it makes it even more dramatic when you're looking at it.

HF: True, true.

EB: You don't expect it. You don't expect it. Cause you can come in on the first floor and then all of a sudden you walk up the stairs, and it's like "Wait, where'd this come from?" It's this new thing. And to bring back to Heidi's point, I remember during construction, you said to me, "It's kind of like window shopping. Like you walk by and you see all these little figures in the window instead of just a display cabinet, you're walking by and it's like you're window shopping." Which I thought was - it's kind of the idea I was going with, and you picked that up. I thought that was pretty amazing.

CA: How was the collaboration through all this? Cause it sounds like there was quite a bit.

HF: Yeah, we worked with the faculty. Typically, FDU will sit with them and talk to them about what they envision and get a sort of pre-programming document together to give to the designers. And then, certainly organized a meeting so that the designers could meet face-to-face with the faculty and hear directly what it is that they were aspiring to.

And quite frankly, so often the faculty will think about what's the bare minimum we need. But actually, we want them to blue sky a little. We know that there's definitely going to become a moment where the budget is going to, you know, be a reality check. But in order to get something transformational, you have to think a little bit more out of the box, so to speak. And I think that NK really helped the faculty do that, and furthermore were instrumental in making a presentation to our donor, who was so excited that both NK presented their ideas and the faculty talked very specifically about the program. And I think it was such a compelling narrative that that very day, the donor committed to funding the project. It was great.

CA: So Carl and Elizabeth how did you structure that presentation?

EB: So we actually collaborated with FDU. So Robin, she had her slides, and I had given her the design stuff after they have looked at it and approved it. And we just collaborated the whole design idea, but then she went through the story of, what was going on in the animation lab. We have a small area for 3d printing. We've built this amazing area for the students, but to enhance that, we need a little bit more.

And then at the end she played a video that a student did, which I thought was so amazing. Basically the whole concept was, it was a young man who would walk up a hill and he was an artist and he would meet his friend who was an older gentleman. And at the end, he became that old man, but they show his progression through his life ending up at the same spot as the older man. And he did an amazing job - it was all animated, it was a whole animated film - and the donor, I think, was shocked by that.

And then what we presented, it was really emotional, actually, in that space, and everybody just loved it. And she even joked at the end, you could tell she was just so comfortable, so it was an amazing thing to feel.

CA: That's great.

HF: What their program was, and what they were achieving with the program, was really illustrated by the animation that was part of the presentation. And yet, all the hurdles that they have surmounted in order to be able to provide this level of pedagogy in the space that they had. And so it was very exciting to see them get the space, that they truly met the level of professionalism, expertise and pedagogy that they have developed for this program.

CA: So, the donor could have nixed it at that point?

HF: If the donor had said, you know, "It's not a compelling story," right?

CA: A little pressure. Carl, how were you involved in this project?

Carl Yost: Actually this project precedes my time at NK. I'm kind here to just kind of remain plugged into communications and just kind of get a little bit more of the story from Heidi, and from Elizabeth as well. So I'm running support on this one.

CA: Fair enough, fair enough. Thanks. Okay.

When we look at projects like this, in the education space - in higher learning, especially - what are three or four things the architect should be cognizant of going into the project, and three or four things the university, the owner-developer should be cognizant of?

HF: For me, it's: if I do my job well, then the mission of the university is enhanced. So that's always job one for me, is to make sure that what I'm doing is enabling the faculty to do what they do and the students to do what they do. That's the most important thing.

Then, I always feel that a project like this, even though it's smaller, can have such power to be transformational and move the university forward in terms of the kinds of space, technology, and collaborative learning that can happen, not only within a program, but interdisciplinary types of learning. Because I think that that is the future. And if you look at the way students live-work-study, now, it's a very integrated - it's not nine-to-five, very compartmentalized - nothing is really that way anymore. And technology is a really big part of that. So enhancing that technology, reinforcing the interdisciplinary approach to learning and bringing excitement to everything we do, all in the name of excellent education.

CA: Nice. Elizabeth, what's your advice about three or four things?

EB: I deal with a lot of these very - because you have to get the project done within either the summer or that kind of winter break. So I know that I want to have a compelling design and that I can meet the lead times needed for these designs. That's always really important because if we can't get the items - you know, during COVID, it's hard because lumber prices went up, metal prices went up, and I'm dealing with it right now, just meeting those requirements is really hard. I'm very passionate about my designs, and to get them done in time. So looking at the budget and making sure that everything is in, and that it looks the way that the client imagined it to be.
Those have always been the challenges. And I think the things that I, working on this particular job, a goal of mine was to give them that wow space that helped push it, that education, and push the direction that they want to go in, but also be able to finish it and complete it the way they envisioned it.

And to hold true to the concept, which was this industrial, wireframe idea that we had all agreed on. And I think it definitely accomplished it, because you can certainly- (Overlapping)

HF: I think the other thing (Overlapping) that NK did really well for us - clearly we're all focused on schedule and budget, that never goes away - but giving us some flexibility in the design. So things that you can keep or slide out, and it doesn't make a major impact on the design. So identifying those things up front that give us some time and budget flexibility. Really, really important.

CA: So the space can evolve with the programs.

HF: Correct.

EB: And it's very hard to do so. I spend a lot of time making sure that I was in the budget, that the things that we were either eliminating or changing still made it feel like that space that we had all looked at and we did it. So I'm like, I'm very happy about that, because we had some challenges that Heidi helped work through with me. So we were a real team, it was a great experience.

CA: We have a separate interview with TGP. So, how was working with them? Because they're a dramatic part of the execution as well. So how did you find them and how did that process work?

EB: When we were looking at the code, I had come across something that I realized needed to be addressed. I asked our code person in the office and he's like, "Yeah, you're going to have to do fire-rated glass." And we all know that's expensive. And I also had the challenge of trying to make this glass box look like it was one continuous glass box. The difference is that the outside wall was fire-rated and then the inside wall wasn't.

So how do you connect two different types together? So I spent a long time on that detail and I worked with TGP to talk to them about this. And, you know, to do the (inaudible) also, that's where we spent our money because it was really important to be able to see into the animation lab. So I called them up cause I've used them on other jobs. But I've never used the ClearView before. So I just, I wanted to go through that with him - what exactly should I specify to get this look, this is what I want it to look like, I showed him the renderings I had done. And he really guided me through that whole process.

And even when the submittals were coming in, I was able to send them to him and he was able to say, "Yep, we're good to go. This looks good." So it was a little more reassuring to me than being a little scared, like, "Is this is gonna work out?" That I had them.

CA: There was a little bit of a hurdle, they were able to solve it. So they came in to prove that the concept was actually executable and then took you through to make sure everything went exactly as planned.

EB: Yes, and good communication is always key, especially with my reps. I will use a rep time and time again, if I know that they are willing to help me out with the lead times, willing to help me achieve the design I'm looking for, helping me to brainstorm different ways we could do these different details, and TGP really did that. I communicated with them before the job was even awarded or even out to bid. You know, that's important.

HF: Yeah, I have to say that during the construction we had a little mishap, they were unloading some of the glass and it fell and broke. And with the lead times being the way they are and all supply chain really being affected by the pandemic... you know, the contractor came up with some interim partition, but the glass supplier really stepped up and expedited the replacement pieces for us so that the project was ready on time.

And that was really excellent. You know, not only were they, as I'm hearing now, great support to the design, both at the point of design and then the metals to making sure that their product was going to be - that all the parts and pieces were there, and it was going to come together onsite just as it was envisioned. But then when there was a hiccup, they also stepped up and helped us there to make sure the project could be launched on time for the students. Very appreciated.

CA: The hiccups or those stress points sometimes create a deeper relationship as long as they're dealt with properly.

HF: As a friend of mine likes to say, "It's not how you got to the problem, it's how you solve the problem that everyone remembers." And I like to say that, when everything goes well, everyone ends up looking great. And something goes wrong - doesn't really matter where that started, but we all sort of rise or fall together. This was definitely a project where I think, as a team, Epic Construction, NK Architects, the glass supplier, FDU, we were all working together as a team.

It was great communication. And the result was an outstanding project.

CA: Thank you so much, thanks for telling the story of it. And you'll be in the September-October issue.

HF: Great.

CA: And we'll make sure you get all the information. And so again, thank you. This has been great.

HF: Thank you so much.

EB: Yeah, thank you.

CA: Thank you. Great to be in New Jersey! (Laughter)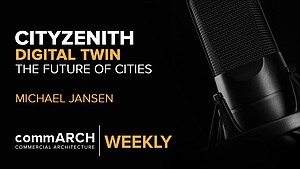 CityZenith's Michael Jansen on Digital Twin & the Future of the Urban Environment | commARCH Weekly 07/2020
In this episode, commARCH has a dialogue with Michael Jansen, Founder and CEO of CityZenith, to discuss the burgeoning landscape ...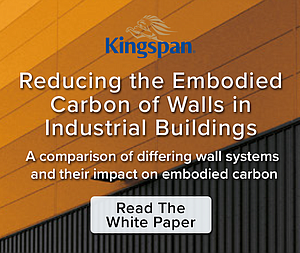 Reducing the Embodied Carbon of Walls in Industrial Buildings
Kingspan partnered with Kieran Timberlake to quantify how Kingspan can reduce embodied carbon in industrial buildings.