September 27, 2021 - by commARCH
Send this article to a friend
Where did it happen?
Costa Dentistry's new Great Falls, VA office.
Who was involved?
GTM Architects created this striking black and white color scheme for a modern contrast accentuated by luxury finishes in Costa Dentistry's new Great Falls, VA office.
What was the challenge?
Creating a design that would balance the practicality and functionality necessary for a family dentistry office with a high-end, modern, and luxurious experience.
What was the solution?
The firm used elements appropriate for a hospitality project by creating a lounge-like atmosphere while balancing the need for both practical and functional design to support the client's purpose, given their hygienic setting and the sensitive nature of their work. Dramatic angles and curves were created in the space, providing privacy and separation while also adding to the luxurious feel. Durable materials that are easy to clean were utilized throughout.
Greg Powers Photography
What were the results?
Sustainable design elements for this project included the luxury vinyl tile flooring which is produced with rapidly renewable and natural raw materials—it's also GREENGUARD Gold Certified and Cradle to Cradle Silver Certified. This flooring was used specifically because it appears as stone tile and yet still offers excellent durability and easy sanitation.
The carpet selected for the private offices is carbon neutral and also Cradle to Cradle Certified. All finishes were selected for their superior durability and ability to last without requiring replacement in a short time, including the engineered stone countertops. Measures were also taken to maximize the natural light throughout the space.
What product(s) were involved?
Upon entering the space, guests are greeted by a sculptural custom reception desk. It's this modern, solid surface desk that anchors the entire waiting room and, along with the serpentine bulkhead, draws attention to the custom logo wall. While the black and white motif creates a dramatic effect, the firm integrated touches of walnut wood millwork help to create warmth throughout.
To create the "O" in the Costa logo, two bendable LED fixtures are used which creates the perfect balance of contrast against the black wall. Luxury vinyl tile flooring appears as stone tile and offers durability while being easy to clean—an ideal finish for a dental office.
Black metal separation panels with a gradation of open circles keep natural light flowing throughout the space and still provide the necessary privacy between dental bays. Staggering lighting in the dental bays provides sufficient ambient lighting without creating a harsh glare around the ceiling-mounted TVs, allowing for a comfortable and relaxing experience. Beautiful yet functional staff rooms include a lab space, break room, and private restroom.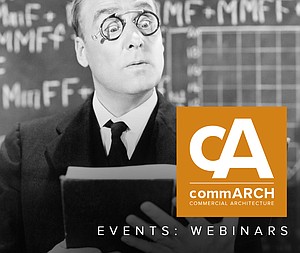 ENR Top Young Professionals Conference
BUILDING STRONG FOUNDATIONS FOR SUCCESSFUL CAREERS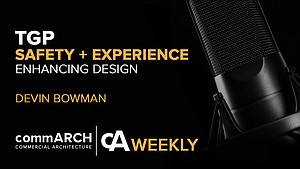 Using Glass to Enhance Life Safety and Occupant Experience with TGP's Devin Bowman | cA Weekly
In this episode, commARCH has a dialogue with Devin Bowman, General Manager at TGP, to discuss the complex problems presented ...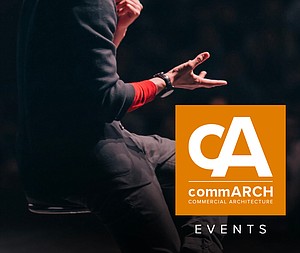 ENR Top Young Professionals Conference
BUILDING STRONG FOUNDATIONS FOR SUCCESSFUL CAREERS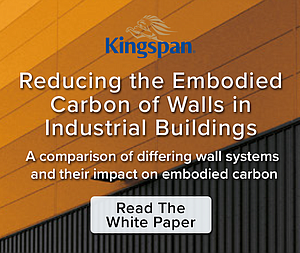 Reducing the Embodied Carbon of Walls in Industrial Buildings
Kingspan partnered with Kieran Timberlake to quantify how Kingspan can reduce embodied carbon in industrial buildings.